Technology has changed our lives by gifting us with Android phones and making everything available at our fingertips. However, at the same time, easy access to Android phones and the Internet has given birth to many cyber problems, including kid's cyberbullying, leakage of crucial business information, cheating in relationships, etc.
So, how can you stop all these cyber issues? Well, the best way to deal with such issues is to use the best Android spy app. Yes, you have heard it right! Some apps allow you to spy on the Android phone of the target person.
While there are numerous hidden spy apps for Android available on cyberspace, we will review the most advanced ones. Also, in this article, I will explain in detail how to install spyware for Android on the target device.
How to Spy on Text Messages on Android Phone?
Modern people prefer texts to calls. So, when you want to get some private information from the target device, you must check for its text messages. Now, for trailing the text messages sent and received by the victim, you need android spy apps. However, if you want reliable spyware for Android phones, you should go with mSpy tracker.
Using the mSpy app, you will be able to view and read the text messages on every major messaging app installed on the target device. It gives you remote access on your Control Panel to check through detailed texts, whether sent or received or even the deleted ones. This Android spy app also provides the feature to monitor the content of every MMS shared on the target Android device.
Besides spying on text messages, using the mSpy app allows you to gain remote access to the following activities of the target Android device:
Incoming and outgoing call records.
GPS location and routes.
Web browser history.
Media sent, received, downloaded, or stored in the Android device.
Social media accounts, like WhatsApp, Snapchat, Instagram, Facebook, Twitter, etc.
A Step-By-Step Guide on How to Download and Install mSpy
The installation of the mSpy app is rather simple for even non-tech-savvy users. You only need to follow these simple steps to get spy on the text messages shared on Android devices.
Step 1: Sign up and create an account: Visit the official site of mSpy. Then, click on the 'Try Now' tab available on the top right corner of the screen. Enter your email ID and accept their terms and conditions before pressing the enter key.
Step 2: Select the target device's OS: On the next page, you will be asked to select the target device to be monitored. Click on 'Android.'
Step 3: Subscribe and pay for a suitable plan: Choose your subscription plan as per your requirements. Detailed information on the services offered under a scheme will be given below each plan. And then, make the payment for the subscribed plan.
Step 4: Install and start monitoring: After completion of the payment, you can click on the 'Install' tab. Right after the installation of the spyware for the Android phone, you will be able to track every activity on the target device through your personal Control Panel.
mSpy also offers the facility of changing from one target device to another within the same subscription plan. Also, if the concerned victim detects spyware on the Android phone and uninstalls it, you will receive a notification regarding the same.
Alternative Android Spy Apps to mSpy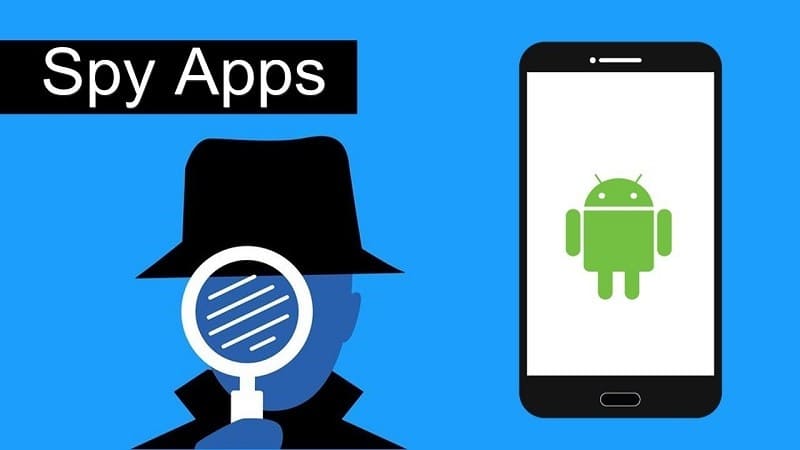 Now having discussed the above mSpy app in detail, let me tell you about a few other alternatives hidden spy apps for Android, which you may opt for spying on your loved one's Android device. So, below I have listed those alternative Android compatible apps to mSpy, along with their respective pros and cons. Let's have a glance.
It is a spy app that lets you track SMS, calls, social apps, GPS location, etc. One of the most important characteristics of this app is that it comes with a geofencing feature. This feature helps in the accurate location tracking of the target device. This app starts recording the activities as soon as it is installed on the target Android device. Most importantly, this spy app can track various social media platforms like WhatsApp, Facebook, Snapchat, etc. Like the mSpy monitoring app, SpyBubble is fully compatible with Android devices and is easy to use.
Pros
It lets you track SMS in real-time.
It allows viewing deleted messages.
It has a call monitoring feature.
It is compatible with all devices.
Cons
It has numerous advertisements.
It doesn't allow you to block an individual's contact number.
Mobile Spy helps you in tracking your child's or your employee's Android phone. This spyware for Android phones keeps track of limited social apps, but lets you access the entire call logs and text messages. It also allows you to view the images taken by the target device along with other media received or shared through it. Also, this spying app can be installed pretty quickly on the target device. The most highlighted feature of this app is that it facilitates remote uninstallation.
Pros
It has an easy installation process.
It has multi-lingual support.
It provides you with GPS location tracking.
It offers a free trial version.
Cons
It provides access to limited social media platforms.
It has fewer features compared to its competitors.
Highster Mobile app hides instantly, once you have installed it on the target Android device. After that, it starts recording almost every activity performed on the target device. Finally, it portrays all these recordings onto the live Control Panel of the respective Android spy private area over which you have full control. But before purchasing it, make sure it is compatible with the target device. This app requires approximately 10 minutes to get installed on the target Android phone.
Pros
The app offers a stealth camera recording feature.
It allows you to track social media apps.
It lets you install it remotely.
It is pocket-friendly.
Cons
It doesn't offer geofencing feature.
It requires rooting a target device.
It is another alternative to mSpy, which helps you spy on your employees', kids' or spouse's online activities. One can use Hoverwatch to monitor and record data of the activities being performed on the target Android device. Most importantly, this spyware for Android comes with a keylogger feature to track your loved ones' activities on their Android phones. This spying app provides a 3-day trial version.
Pros
It can secretly capture screenshots.
It works in a stealth mode.
It lets you track to-do lists.
It provides you with social media apps tracking.
Cons
It gives an inaccurate GPS location.
It required rooting a target device.
How to Find Spy Apps on Android?
Spyware for Android phones come with a feature that enables them to hide from the app drawer and make them invisible to the target phone's owner. Sometimes, these apps do not get hidden; instead, they rename themselves with a pseudo-name that the victim would never suspect of. There is also a setting to make these Android spy apps a system app to avoid uninstallation.
But after you have finished monitoring and tracking your loved ones' Android phones, it's your responsibility to remove the Android spy app. First, you would need to know how you can find the spying app on the target device. It is pretty challenging to find out where the spy app is located on the Android phone, but it's not impossible.
There is a trial method to check for Android spy apps. You have to notice some small changes in your phone. Hence, check for the following signs:
Your phone has started using too much data either via Wi-Fi or mobile data.
The screen of your Android phone remains active even after several seconds of inactivity or light up automatically when you are not using it.
You experience troubles while shutting down your device.
This method of detecting spyware on Android is not very useful. The modern spy apps for Android are so efficient, so there are very fewer chances of them interfering with the functioning of the device. Hence, if you genuinely want to find the hidden spy apps for Android, opt for the below-stated method as it is more effective and reliable.
Let me tell you the second method to find out the precise location of the spying app.
First, go to the 'Settings' menu on the target phone.
Open 'Additional Settings.'
Open the 'Application Management' tab.
After that, go to the 'Downloaded Apps' option.
In this section, check the name of every app carefully.
If you find any absurd app or an Android system app named 'System software,' it is undoubtedly a hidden spy app for Android.
If you do not find any hidden app by this method, you can use a few spy detector apps on Google Play Store to find these hidden spy apps. To download an anti-spy app, go to the Play Store and install it on your phone. These apps will find the hidden Android spy apps in minutes.
How to Remove a Spy App from Android?
Once you are done with spying on your child's, employees', or partner's phone using an Android spy private area, the next step is to get rid of the app. You have to uninstall it before your target gets to know about it. Hence, to remove the hidden spyware for android phones, you must follow these instructions.
The first and foremost thing you are required to do is borrow your victim's phone once again, without raising any suspicion.
Go to the 'Application Management' and click on the 'Downloaded Apps' option.
You would see an app with a name like 'System Software,' 'System Update Service,' 'Tools,' etc. Every phone has its in-built system software, so no one would ever download it. Thus, it makes clear that the Android spy app is hiding under this name.
Click on it, and tap on 'Uninstall.'
Hurray! It's done.
Final Thoughts
Now, you must have got well acquainted with the installation and removal procedure of the hidden spy apps for Android. So, whenever you feel that your child's, spouse's, or employee's behavior is suspicious, or they are always busy on their phone, do not ignore such actions. Instead, opt for the right spyware for Android phones and get it installed on your loved ones' phones, not only to spy on them and know the truth but also to prevent them from getting trapped into much bigger problems.
I have already mentioned a few spy apps available in the market, but mSpy is the most efficient and must-try spy app for Android.